Uniform Update : Our school NEW uniform vendor will be Lands End
SUPPLIER: Thank you for your patience while we were searching for a New School Uniform Vendor. Our uniform committee felt strongly on choosing Land's End for our school uniform vendor.
We will have a 2-year transition period for parents to transition into the New Uniform Mass requirements and options available through Lands End.
Land's End school uniforms come in a wide variety of sizes including Girl Slim Uniforms' Girl Plus Uniforms' Boy Slim Uniforms' Boy Husky Uniforms' and everything in between. The school uniform pants are made to be extra durable so that your kids will outgrow them, not wear them out. With reinforced knees and great fabric, your kids will be comfortable, and their clothes will last and last. Our girl's uniform pants and girl's polo shirts are tailored for her shape, so she will feel comfortable and look great.
Listed below is our school number: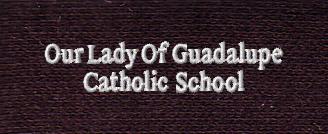 Our Lady Of Guadalupe School

2405 Navigation Blvd

Houston, 

TX
Preferred School Number: 900186800